Some Sponsorship Ideas
Sponsorship is a very good way of raising funds. Over the years, many people have been kind enough to become 'sponsored' and compete or take part at various events to raise funds on behalf of Border Collie Rescue. During the Foot and Mouth year, many dog clubs around the UK ran events and shows to raise funds for the F&M Program. Individuals also raised money in various ways from having their head shaved, going on or organising sponsored walks, or running in the London Marathon.
Raising funds for BCR this way can be as imaginative as you want. Sometimes it's just a bit of fun, other times it may involve attaining a personal goal and helping BCR on the way. If you have any ideas, please contact us and we can help you set up the event and give you a page or section on our website in support of what you are doing.
If you would like to organise and run an event or take part in an event and be sponsored to raise funds for Border Collie Rescue, please visit our MyDonate page
where you can find out how to set up a page for your event. There is a link below.
Please contact us as well and tell us about what it is you want to do.
We can register and authorise the event in case you are challenged or need some paperwork to show to event organisers and we may be able to help you set it up and promote it to make it more successful.
The My Donate service is provided by BT at no charge to us and they do not take a commision on any monies raised.
The only deductions are the credit or debit card fees - otherwise, it all comes to us.
People can sponsor your event through the page you set up on their website, pay with debit or credits cards and follow its progress.


The links below show some examples of how people have raised funds for BCR in the past -
Lt Col Janet Pilgrim ran the Kielder Marathon to raise funds for Border Collie Rescue on Sunday 9th October 2011 - to watch a video of the run - click here
Elisabeth Sharples ran a 1/2 Marathon in the Great Scottish Run, from George Square, Glasgow on Sunday 4th September 2011 to raise funds for Border Collie Rescue - Click here for details of how she did.
Jill Maud and her dog Mead walked the Lady Anne's way between 29th June and 7th July 2011. Click for details of how they did
PC Graham Roberts runs London Marathon 2008 for BCR
Lynn Cashman runs London Marathon 2000 for BCR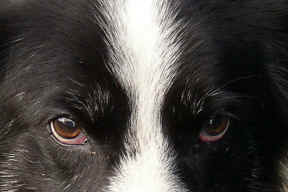 Border Collie Rescue - Keeping an "Eye" on the breed
TOP
You are here >>>
Funding & Helping
>>> Sponsorship Ideas
Copyright - Border Collie Rescue - 3037504