You are Here >>> News and Views >>> News Archive
Border Collie Rescue - On Line - News Archive
News Archive page
Selected news items from our archives.
Outdated links to external sites have been disabled where noted. If you find an active link that does not work, please let us know.
Links to internal pages remain active. Some of the pages have been set to open in new windows. Please close those windows when you have finished.
Quick jump to 2009 - 2008 - 2007 - 2006 - 2005 and Older
---
13/04/2010
Dogs being banned from exercise areas
The increase in UK local authority use of Dog Control Orders to ban dogs from access to public parks and open spaces within their jurisdiction raises alarming prospects for dog owners living in urban environments. These orders, introduced in 2005, are designed to control irresponsible dog ownership and curb the anti social behaviour of small minority of dog owners who do not pick up faeces or keep proper control of their dogs in public places. Now councils are using these powers to set outright bans on dogs accessing a wide range of public spaces.
It must be said that by turning a blind eye to people who do not pick up their dogs waste and by accepting poor standards of control from fellow dog owners, we have allowed a situation to arise where the only option left to many authorities is to take draconic action like this to keep their public spaces clean and free of intimidation for all citizens. The lesson to be learned is, if we want less government interference and restrictions on our lives, we should take on more responsibility ourselves.
Telegraph story
---
26/03/2010
UK Government reported to be poised to ban the use of wild animals in Circus performances
It has been widely reported that following a public consultation indicating that more than 90% of the British public would like to see the end of the exploitation of wild animals in circus performances, the government is considering a national ban. Currently, local authorities (Councils) have powers that allow them to ban a circus using wild animals from operating in their area, however this is not yet a national policy and many animal welfare organisations now hope that the DEFRA initiative will materialise into a full ban sometime in the near future - perhaps even this year.
Predictably, Circus lobby groups are against such a ban and are ridiculing the conclusions of the consultation, even going as far as to imply that the whole thing has been rigged or manipulated by animal rights groups.
Having participated in the public consultation, we cannot credit their response as being anything other than a desperate attempt to enable them to continue to exploit animals for personal gain. A spokesman for a circus group appeared on national breakfast TV today and insisted that the consultation was not representative of the views of the majority of the public and that there still existed a 'market' for circuses using wild animals in the UK.
The use of the word 'market' is truly reflective of the way such people view the use of animals in their entertainments. It's just business to them. Animals are a commodity to be traded on - just like stocks and shares. A ban is well overdue.
Link to report in Daily Mail
---
25/03/2010
PETA poster 'not likely to cause offence'
A Peta poster advertisement showing a pedigree Maltese dog sporting a Hitler style moustache, together with the slogan "Master Race? Wrong for People. Wrong for Dogs. Boycott Breeders. Adopt." has been deemed as 'not seriously offensive or likely to cause widespread offence' by the (ASA) - Advertising Standards Authority
The poster, aimed at pedigree dog breeders, was displayed outside Crufts this year, generating 3 complaints (one from the Kennel Club) to the ASA.
However, the Advertising Standards Authority rejected the complaints and has allowed the poster to remain.
More details of this story - click here
---
---
23/03/2010
Wales bans the use of Electronic Training Collars for Dogs and Cats
Welsh Assembly Government Press Release
A ban on the use of collars designed to administer an electric shock to dogs and cats in Wales will come into force tomorrow Wednesday 24 March following the approval of the regulations by Assembly Members today Tuesday 23 March.
The ban was initially announced by Wales' Rural Affairs Minister, Elin Jones, on 24 February.
Following Assembly approval, the provisions of the Animal Welfare (Electronic Collars) (Wales) Regulations 2010 will come into force at one minute past midnight tomorrow morning 00:01, Wednesday 24 March.
The ban is the first of its kind in the UK.
Wales' Rural Affairs Minister, Elin Jones said:
"I'm very pleased that Assembly Members have backed the Welsh Assembly Government's proposal to ban the use of electronic shock collars in Wales.
"The ban will come into force tomorrow morning. It is important that owners are aware of the ban, and that they now take appropriate steps to comply with the law.
"The Welsh Assembly Government takes animal welfare very seriously, and I'm pleased that as a government, we are taking a proactive approach to promoting the welfare of animals by banning the use of such electronic training devices in Wales."

Interview bids for the Minister for Rural Affairs and requests for further information should be directed to Martyn Williams in the Welsh Assembly Government Press Office on 029 20 898169
BCR Comment
A Good Move.
Well done but not before time. Let us hope the rest of the UK follows.
Now if the Welsh Assembly would completely ban commercial puppy farming, including the sale of puppies and kittens in pet shops and oblige all Local Authorities in Wales to uphold and enforce the 2006 Animal Welfare Act - they will have scored a hat trick. Such moves will change Wales from being one of the worst areas of the UK for animal welfare into one of the best and remove the shame of their record of past exploitation and abuse.
Remembering the principle that 'a law is ineffective unless it is enforced', we now have to see who will enforce this ban, how efficient the enforcement is - and hope it is not all just left to the RSPCA to bring about prosecutions (again).
---
17/03/2010
Animal Welfare Offences - 2006 Animal Welfare Act (AWA) - To prosecute or not?
Is the cost of Animal Welfare prosecutions a major factor that puts local authorities off adopting and enforcing the 2006 Animal Welfare Act? Are transgressors still getting away with breaking the law and abusing animals simply because it is too expensive to bring them to court?
The grapevine feedback in animal welfare circles is that, in spite of the new laws, many authorities are reluctant to adopt or enforce them and consequently many offences are not even being investigated, let alone the offenders brought to justice.
There are some councils that do enforce the AWA and bring prosecutions, however the RSPCA continues to be the only consistent enforcement agency on animal welfare issues in the UK. They are a charity! Why is it being left to a charity to enforce the law?
The people of this country are said to be very aware and proud of our record on animal welfare, so why do councils seem to be frightened of the public reaction to spending council tax money on upholding a legal system most people apparently want enforced?
Are we British as altruistic as we think we are, or do we accept that because the laws exist, we have done enough to look good and as long as we do not have to pay for enforcement we can feel comfortable in knowing that, at least, now enforcement
could
be taken?
Are we really that glib as to sit on the fence and let those that really care give their money to the RSPCA so they can do the job our councils are supposed to do? Let them pay for our complacency?
Councils seem to think so - what do you think?
Welsh Conservative Assembly Member for North Wales and Shadow Minister for Rural Affairs
A short debate on this issue by the Welsh Assembly can be seen here
---
News in from the USA
West Hollywood City Council passes historic law to ban the sale of Puppies and Kittens in pet shops
Following investigations into the pet trade in California and submissions by a number of animal welfare organisations in the USA, including
the
Companion
An
i
mal Protection Society (CAPS), Animal Legal Defence Fund,
Social Compassion in Legislation
and
the
Humane
Society of the United States
, lawmakers in the City of West Hollywood, California, drafted legislation to prohibit the sale of Puppies and Kittens (from puppy farms and kitten farms) by pet shops and traders within the cities jurisdiction.
The same legislation encourages pet shop owners to take an active part in working with local rescue groups and shelters to assist in the re-homing of unwanted and homeless animals.
The legislation, known as a City Ordinance, will cover all commercial dealers of animals within the City and will become law if it passes a second vote in two weeks time. Supporters of the Ban are confident that the vote in favour will remain unanimous..
The following is a release from Judie Mancuso President, Social Compassion In Legislation (SCIL)
Dear Friends:

Congratulations! Thank you all so much for sending your support letters to the West Hollywood City Council.Tonight, (1st February 2010) the ordinance to ban the sale of dogs & cats in pet stores (except shelter animals) passed unanimously. This law will guarantee that dogs and cats from cruel puppy/kitten mills will no longer be sold in the City of West Hollywood.

The audience was packed with supporters, and several speakers and Council members noted the historic nature of the evening. Thank you all so much for your support! We are told from the council that your quick response via the overwhelming amount of support emails led them to this unanimous vote. They received emails from not only local and state supporters but also from groups and individuals from Washington to New York and even the United Kingdom (a shout out to Border Collie Rescue-UK).
Thank you all, your activism is truly amazing.

---
Potentially, this ground breaking legislation could cut off outlets for puppy farm bred dogs (and kittens) in the City of West Hollywood and will hopefully be taken up by other City and State legislators around the USA. By removing a source of badly bred dogs and cats from being available to the public to be 'conned' into buying, this should have the knock on effect of reducing the numbers being discarded and ending up in pounds, rescues and humane societies.
Border Collie Rescue was happy to write in support of this ban. We hope this sort of legislation will spread and protect more animals and people from being exploited by unscrupulous and profit driven traders and retailers. What happens in one country could affect us all and we should not be shy to support changes - anywhere - that benefit animal welfare.
For those who may be interested in campaigning for similar legislation in their own area, state or country, the published public document outlining the West Hollywood Council legislation can be downloaded and read as an Adobe .pdf file by clicking the link below.
West Hollywood ordinance PDF file
Please watch the following video - just click in the centre of the screen
We hope it may encourage you to 'get active' and help make a difference.
---
REPORT ON PEDIGREE DOGS RELEASED
Following the BBC documentary "Pedigree Dogs Exposed there have been a number of reports, summaries and accounts of the predicament of pedigree dogs in the UK. The latest, and perhaps most in depth, report is from Prof' Patrick Bateson and contains many recommendations designed to improve the quality of life for pedigree dogs and there owners.
Click the link below to read it in full.
http://breedinginquiry.files.wordpress.com/2010/01/final-dog-inquiry-120110.pdf
---
Free Darcy Campaign
Highlighting our quarantine laws and how it can adversely affect specialist dogs working overseas
The recent case of
Darcy
, a search and rescue dog, has raised some issues about UK quarantine laws.
Dogs like Darcy are highly trained and save lives, both in the UK and throughout the world. The UK has a 'passports for pets' scheme which circumvents quarantine restrictions, but this is only relevant to certain countries. If a dog is not on the scheme or visits a country not participating in the scheme it will be subjected to 6 months quarantine upon re-entry to the UK. This has happened to Darcy.
Our quarantine restrictions are there for a reason - primarily to prevent the introduction of Rabies into the UK. This is a very good reason.
However, we firmly believe that there should be some sort of provision to enable dogs like Darcy to be able to assist in disasters around the world and not be subjected to our current draconian quarantine isolation upon their return. We need a different system for dogs like Darcy.
6 months is a long time in the life of a dog.
Lets put aside the emotive argument that six months in isolation, separated from the handler it has bonded with, is both unkind and cruel to a domestic companion animal like a dog. Lets also put aside the fact that it is unkind and cruel to deprive a working dog of its work and subject it to the frustration it will consequently endure while restricted in this manner.
These are the facts of quarantine and all dogs are so affected - some breeds, like the Border Collie, worse than others.
For a dog like Darcy it is 6 months where he will be unable to do the work he has been trained to do. It will be six months where his training will not be practiced or updated and when he is released from quarantine he will need to be retrained to reach his current standard.
After long and expensive training, it will be six months where Darcy - as an asset to the human race - will be wasted.
Like so many aspects of our modern society, there is little sense to this - economically or socially.
Like so many aspects of our legal system and our laws affecting animals, we have an antiquated and ill thought out quarantine law that is applied in an indiscriminate, knee jerk manner by those who enforce it. Politicians could change this.
If you - like us - feel that there should be a modification of our quarantine laws to allow dogs like Darcy to be able to work more freely around the world -saving lives - helping humans - without being subjected to an enforced 6 months quarantine on return to the UK -
SIGN THE PETITION OUTLINED BELOW
---
Petition information
Darcy, an Essex County Fire and Rescue Service's search and rescue dog, will have to spend six months in quarantine after going to Indonesia to carry out life saving search and rescue work. We believe that rescue dogs should be exempt from the quarantine laws. Six months imprisonment does not seem like a fitting reward for a dog which has worked abroad to try and save lives.
To sign the petition as detailed below, please click the link
We the undersigned petition the Prime Minister to change the UK quarantine laws to exempt search and rescue dogs which have done life saving work overseas
Petition closed
---
Border Collie Elected Mayor of Rabbit Hash, Kentucky, USA
Hidden behind the hype of the National Presidential elections in the USA, a far more important and significant battle was being fought for the office of the Mayor of Rabbit Hash, Kentucky.
16 candidates struggled through a long, and sometimes contentious, fight for the highly sought after and prestigious position for the 2008 term of office. Finally, on the 5th November, Border Collie 'Lucy Lou' was elected with a majority 3489 votes over her closest rival.
Border Collie Rescue wishes Lucy Lou good fortune in her term in office. If anyone wishes to know more about this unusual and, undoubtedly, very wise Kentucky community, click on the link below and visit their website.
Some people show exceedingly good taste
- http://www.rabbithashusa.com/ -
time for a change! London Next?
---
Natalia - Cruelty case Border Collie makes full recovery - owners prosecuted.
Natalia was rescued from a Harrogate house of horrors. She was close to death when the RSPCA seized her from the home of Michael and Emma Forrester.
The RSPCA prosecuted the couple under the 2006 Animal Welfare Act, resulting in them being banned for life from keeping animals, given 200 hours community service, a months curfew and £500 cost after Natalia and another dog were found close to death in their kitchen, where they had been confined for two years.
Natalia was so frustrated by her imprisonment that she had worn a hole in the lino by constant circling and the other dog, a Doberman called Charmaine, had to be put down after she was found with severe enteritis, sunken-eyed, collapsed and surrounded by faeces.
Natalia was covered in urine burns, sores
and
untreated bite wounds from the other dog and had developed a compulsive circling syndrome.
Initially it was thought she was suffering so much it may have been more merciful to have her put down but RSPCA inspector, Mike Pugh, contacted Border Collie Rescue for a second opinion.
After a week at a veterinary hospital she
was taken

by the RSPCA

to

the

Border Collie Rescue

rehabilitation centre

, near York, where her condition and behaviour gradually improved.
When Natalia was handed over to Border Collie Rescue care she was underweight, suffering from muscle wastage - particularly on her hind legs, had sores and holes in her pads from constant circling, had sores on her sides, rump, chest and abdomen from lying in urine and on hard ground for long periods, was suffering from anal gland problems and had very bad teeth, both the latter problems caused by bad diet and all, in part, subsequently rectified by good diet and exercise and the extraction of six of her teeth and the de-scaling of the others.
She was also psychologically damaged. She was over-stimulated by the slightest noise and had developed a compulsive repetitive circling pattern that she fell into without thinking and could be triggered by audio or visual stimuli. She was agoraphobic. She was wary of other dogs, possibly because she had been dominated by her companion in captivity. She was wary of new people and frightened by change.
Initially her pads and sores needed daily treatment by the administration of healing creams several times a day. She needed 24/7 care to correct her repeated circling - a habit allowed to build up over some time - so undoing the damage could only be effective over several months of constant attention, reminding her when she slipped into the pattern and breaking her habit by diverting her attention and allowing her to realise what she was doing. Regular small meals several times a day coupled with short exercise sessions, both of which were increased over time allowed her to gain weight and build muscle proportionately.
Her problems had developed over a long period of time and needed a long period of time to address.
Everything Border Collie Rescue needed to do for Natalia she always responded to with expressions of gratitude for their efforts, which made all the time and energy over the 6 months period very easy to give when she was so rewarding to help.
Natalia now enjoys meeting new people, the company of other dogs and has re-discovered the art of play. Because she trusts her trainers she can follow them into unknown situations and feel confident in them and herself.
She loves to run free off the lead and has enjoyed the freedom of the BCR fields and has excellent recall and general obedience. She can now walk beautifully on or off the lead, following her handler instead of spinning in front continuously as she did when she first came in.
All her training and re-habilitation has been based on trusting and following a leader and she loves her newfound freedom.
To read an article from the Yorkshire Post Newspaper and view a video about Natalia and her progress - click here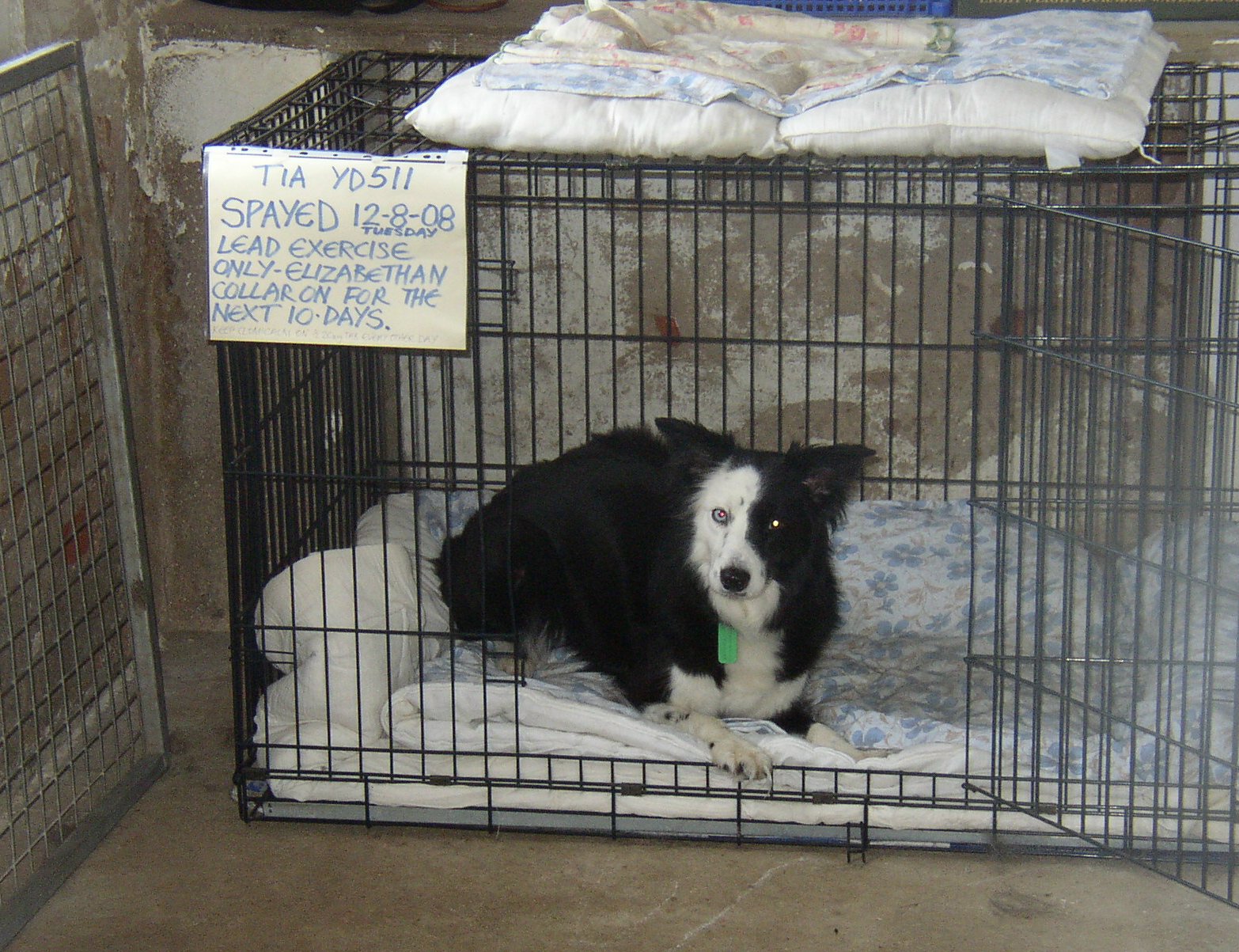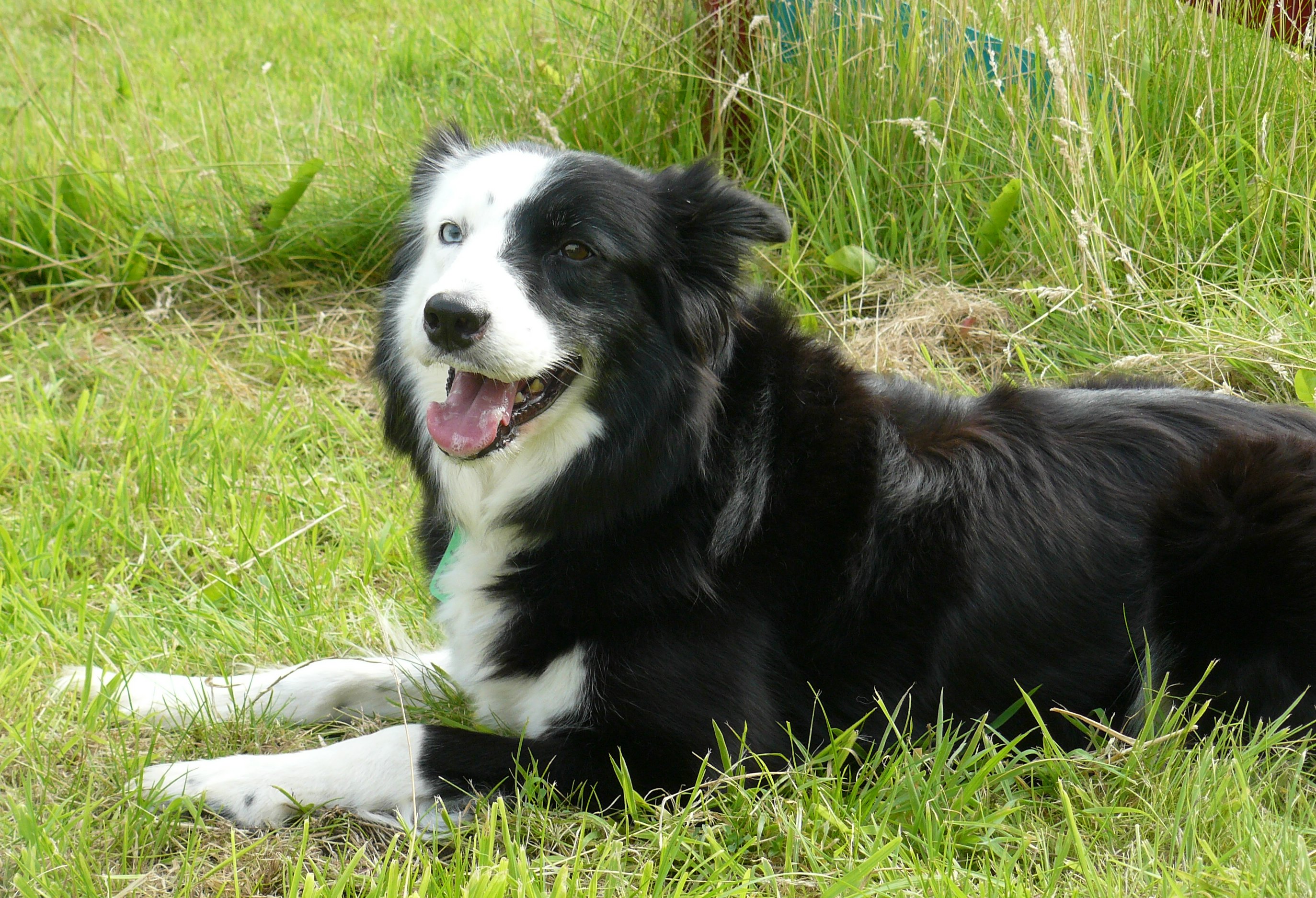 Natalia - After Spaying Exercise to build muscles Enjoying fresh air and freedom
---
Watch trailers for our latest video - "Nice Work" - a documentary about our work and some of the dogs we have re-homed.
Watch the whole Nice Work series here
---
Concerns over organ transplants.
KIDNEY transplants for cats will be allowed in Britain for the first time if the Royal College of Veterinary Surgeons? (RCVS) gives the go-ahead.
It looks more likely that the procedure will be given the green light than the red because the RCVS council has already asked for certain points to be included in its guidance to vets, and this has been done.
And transplants for dogs could be next. Although canine transplants has not yet proved to be as successful on dogs, due to problems with tissue typing and finding matches, it is thought that if the problems can be solved there is no reason why it should not be allowed in dogs as well at a later date.
Renal problems in cats is a common occurrence and they suffer from them in relatively early age, compared to dogs. This means that if a transplant is carried out the cat should enjoy several years of improved quality of life, another factor which has been considered by the college.
If the go-ahead is given, transplants will be performed on cats at an estimated price of £8,000 per operation.
Considerable expertise is needed to perform transplants, and the average vet will not immediately be equipped to be able to carry them out. Even if they were, however, the college is insistent that the procedure should only take place at ?centres of excellence?.
More difficult and labour intensive than the surgery is the after-care and careful nursing of the animal and the need to prevent rejection of the organ through immuno-suppressant drugs. This latter process would be more costly than the transplant operation itself.
And lurking behind it all is the spectre of the ethical and moral grounds involved Where will the organs come from and how can it be ensured that the donor animal is as high a priority as the recipient?
In the US, where transplants are already carried out, organs are taking from stray and abandoned animals; but the person who owns the recipient pet must agree to take on the donor too and care for them.
The RCVS will only give its agreement to renal transplants if there are stringent controls attached to the practice. Mr Hockey said these were needed due to ?the particularly sensitive nature of transplant work?.
---
Vets save collie after 20 inch stick stuck down throat
Vets have saved a dog after a three-hour operation to remove a 20 inch long stick which became lodged in the pet's throat during a game of catch.
Archie, an eight-month-old border collie, ran into the stick at speed after it was thrown at the dog to chase.
The stick tore through the animal's windpipe and shredded the muscles down the side of its neck.
The dog collapsed unconscious and the owner's father Steven Harding carried it half a mile to its home in Exeter, Devon.
He then took it to a surgery where three local vets Peter Howard, John Gale and Sara Eley opened up its neck and removed the stick.
Mr Howard said: "It was impossible to know what damage had been done to vital structures in Archie's mouth, throat and neck but it was obviously a life threatening condition.
"There were two small branches acting like barbs anchoring the stick inside the throat.
"A major nerve was trapped tightly around the end of the wood which risked paralysis. The stick had to be sawn off to release it.
"Amazingly the major blood vessels of the neck had avoided potentially fatal damage and after three hours of intense surgery the stick was removed through the neck incision and all the wounds repaired."
The dog is now recovering at home where he has been banned from playing with sticks.
His owner, Anna Harding, 27, said: "The vets have done a remarkable job and Archie is back to his old self.
"There will be no more sticks for him. From now on he will have a nice soft old tennis ball."
Vets have warned owners about the dangers of throwing sticks, which cause thousands of injuries to dogs every year across Britain.
Source - Telegraph online - http://www.telegraph.co.uk
---
A Warning for dog owners about the use of certain types of garden mulch
sent to us by Ali Taylor, Head of Welfare, Battersea Dogs Home
Yesterday one of our dog agility friends experienced a tragedy and wanted me to pass a special message along to all of my dog loving friends and family. Please tell every dog owner you know.

Over the weekend the doting owner of two young lab mixes purchased Cocoa Mulch from Target to use in their garden. They loved the way it smelled and it was advertised to keep cats away from their garden.

Their dog Calypso decided that the mulch smelled good enough to eat and devoured a large helping. She vomited a few times which was typical when she eats something new but wasn't acting lethargic in any way. The next day, Mum woke up and took Calypso out for her morning walk. Half way through the walk, she had a seizure and died instantly.

Although the mulch had NO warnings printed on the label, upon further investigation on the company's website, this product is HIGHLY toxic to dogs and cats.

Cocoa Mulch is manufactured by Hershey's, and they claim that "It is true that studies have shown that 50% of the dogs that eat Cocoa Mulch can suffer physical harm to a variety of degrees (depending on each individual dog). However, 98% of all dogs won't eat it."

Cocoa Mulch, which is sold by Home Depot, Foreman's Garden Supply and other Garden supply stores, contains a lethal ingredient called
"Theobromine". Theobromine is the ingredient that is used to make all chocolate especially dark or baker's chocolate which is toxic to dogs.
It is lethal to dogs and cats. It smells like chocolate and it really attracts dogs. They will ingest this stuff and die.
Several deaths already occurred in the last 2-3 weeks. Just a word of caution, check what you are using in your gardens and be aware of what your gardeners are using in your gardens.

Cocoa bean shells contain potentially toxic quantities of theobromine, a xanthine compound similar in effects to caffeine and theophylline. A
dog that ingested a lethal quantity of garden mulch made from cacao bean shells developed severe convulsions and died 17 hours later. Analysis of
the stomach contents and the ingested cacao bean shells revealed the presence of lethal amounts of theobromine.

---
We are concerned about a concept being imported to the UK from the USA which can broadly be described as 'Pet Rental'.
In essence, by joining a 'club', members will be able to 'rent' time with a dog of their choice on an hourly, daily, weekly, (whatever) basis. The businesses that are offering this service profit from exploiting human self indulgence and the dogs vulnerability and helplessness in law.
MP, David Drew has tabled an Early Day Motion on 4th July 08 (EDM 1699), calling upon the House of Commons to act on this matter as it is obviously of great concern to anyone who has the interest of dogs at heart and is against exploitation of animals in principal.
The EDM is as follows -
That this House expresses concern about the operation of the dog rental company, FlexPetz, which has opened in London with the intention to expand to various cities across the United Kingdom; acknowledges that the UK dog rental business is currently very small but recognises the potential for its growth due to the increase in fashion accessory dogs; disapproves of causing distress to dogs as a result of them being rented out to numerous people; believes that this encourages irresponsible attitudes to dog ownership; further believes that dog renting is, or should be, a breach of the Animal Welfare Act 2006 in that it is highly likely to inhibit dogs from having the ability to exhibit normal behaviour patterns; further disapproves of renting dogs for profit; calls on the Government to take action to ensure compliance with the Animal Welfare Act; and thanks the Kennel Club for drawing attention to this issue.
At the point of writing this article, the motion had 5 signatories - progress can be followed here - Petition closed
In order to progress into Parliamentary consideration, this EDM needs as many signatories as it can get, so we ask you to contact your local MP by any means possible and ask them to support EDM 1699 by adding their name as signatory.
Please lets nip this sort of exploitation in the bud.
It is morally, ethically and humanely wrong to expose any animal to this sort of exploitation and to allow it to be done - for profit or not - is a sad reflection on the humanity of any society.
What next - Rent a Child?
---
URGENT - Please help Advocates for Animals with their campaign to ban snares in Scotland
The Scottish Government is currently deciding whether or not to ban snares and an announcement is expected within weeks. Advocates for Animals believe a ban in Scotland can and should lead the way for the rest of the UK.
Snares are thin wire nooses used to trap animals. They are inhumane, indiscriminate and in use across much of Scotland. Once caught in a snare there is no escape. Imagine an animal's fear. As it desperately struggles to free itself, the metal noose will tighten. Although designed to immobilise their targets, snares can inflict horrendous injury and in some case a slow lingering death.
---
http://new.edp24.co.uk/
31 October 2007
Man prosecuted for dangerous dog

A man has been prosecuted under the Dangerous Dogs Act after his Border Collie bit a member of the public.

Mark Osborne, 44, of Woodlands Drive, Thetford appeared before magistrates at Swaffham yesterday and pleaded guilty to being in charge of the dog that was dangerously out of control on May 6 at The Woodlands in Thetford.

He was given an 18-month conditional discharge and both he and his wife Julie, 43, were made subject of a control order under the Dogs Act 1871.

The dog must now be kept secure within their home and be kept on a lead, muzzled and handled by an adult when it is taken out.

The couple were also ordered to pay £500 costs to Breckland Council.

Speaking after the court case Kay Fisher, Breckland executive member for the environment, said: "Breckland takes its responsibilities about dangerous dogs very seriously.

"The council promotes responsible pet ownership but will not hesitate to take action if owners let their dogs out of control and present a danger to members of the public."
---
From - Shanci Animal Protection Organization - Guangzhou China
A brutal slaughter of dogs by gasoline happened in Nanjing , Jiangsu Province on 25th April shocked the whole nation. A stray dog with her two new born puppies, which got along fairly well with residents in this district, innocently got burned by four nasty people just because of the so called reason that "barking disturb their life"! The mob blocked the 3 dogs in drain before pouring gasoline on them. A young man passing by fought to help the dogs escape, but got beaten by the mob. A puppy died with great agony, eyes wide open… and the other two dogs were severely injured by both burn and beaten. Now, the news has already been widely broadcasted through newspapers, TV, and Internet. The ordinary people in China are in a fury about the cruelty and inhuman event. They do what they can to help these dogs, which still struggled with agony and death, however, up to the present, the criminal still get away from what they did to these innocent dogs since no suitable law of animal welfare can be applied on them.

We have received reports that on Sunday 10th June, authorities in Chongqing , China began a mass cull of all dogs in the region; The cull is thought to be in response to a human rabies death.
The Government of the Changshou District in Chongqing rapidly brought in a law making it illegal to own a dog, and urged all dog owners to kill their dogs or hand them over to the authorities before Sunday's deadline.
On Sunday, the authorities allegedly began confiscating the dogs and killing them using inhumane methods.
This action would be devastating for the dog owning community and cause untold animal suffering.
We are aware of the situation and are taking urgent action from within China to stop the cull.
Indiscriminate culling is not an effective way of controlling or preventing human deaths from rabies.
Through meetings, letters and telephone calls we are positively applying pressure on the authorities and doing all we can to get them to call a halt to this campaign.
Fox Lee - Shanci Animal Protection Organization
Contact E-mail:iam.holmes@yahoo.com.cn Website www.gzhsa.org.cn
---
Video of Sally and 5 of her pups.
Music - 'Puppy Walk' - provide by 'Om'
---
Video of Gael being trained
Music - 'Song for Hope' - provided by 'Eskimo' - www.eskimomusic.com
---
Video of Pan - a Border Collie born blind.
---
6th April 2007 - Animal Welfare Act 2006 - now in force. Happy Easter Furry friends!
The long awaited Animal Welfare Act has become law in England today. The act is already in force in Scotland and Wales. The new act makes many changes to the way humans must keep and treat both companion and farm animals, but one of the major changes is that from today onwards, RSPCA Inspectors can take action before an animal has suffered rather than afterwards.
Hopefully we will now get less calls from people saying "I witnessed 'such and such' and told the RSPCA, but they said that as the dog had shelter, food and water, there was nothing they could do!" Now - if a dog is likely to suffer they can do something about it.
To see a PDF copy of the act, click on the link below. Read it - it affects you and your pets. They now have legal rights.
http://www.opsi.gov.uk/acts/acts2006/ukpga_20060045_en.pdf
---
8th March 2007
The House of Lords has forced the Government to reconsider the exceptions to the ban on tail docking by rejecting the proposed law with its current exemptions.
The RSPCA has publicly condemned the regulations that allow certain working dogs to be docked and do not believe exceptions are necessary.
The ban will come into force at the end of March in Wales and on 6th of April in England, as part of the Animal Welfare Act. The current wording would have allowed exemptions for working dogs only in England and Wales. In Scotland the law does not allow any exemption.
RSPCA sources say that the charity "remains committed to the view that any exemption to a ban on the cruel and painful act of tail docking, except for medical reasons, is totally unnecessary. This has been demonstrated in countries such as Sweden, where a full ban has been successfully implemented since 1989."
The Council for Docked Breeds have made it known that they oppose a ban on the docking of dogs tails and have said that a number of their members will simply cease breeding rather than comply with the law. As a ban on docking will effectively make the CDB redundant it is not surprising they oppose the ban and the UK could certainly do with less dogs being bred so all in all the new law looks like it will have a beneficial effect in other areas as well as ending a rather archaic and unnecessary practice of human mutilation of an animal.
In the "old days" docking became common practice as a form of tax avoidance. It was applied to working dogs to mark them as exempt from taxation levied on pet dogs. Many people docked the tails of their pets simply to avoid tax. Many of our "traditionally" docked breeds have sprung from this rather unsavoury practice, as has the CDB.
If exemptions are allowed there is no doubt that a lot of people will seek to claim that their dogs are 'working' dogs and therefore exempt, not for tax avoidance this time but simply from a personal conviction that a docked dog looks better than a dog with a tail. When are we humans going to accept that although we can control animals simply because we have physical, mental or technical advantages over them we don't have the right to bully and mutilate them.
Sad world that we have to force people to act like civilised humans by legislation.
---
CDB Suggest RSPCA Accept Democracy
Tuesday, 20 Feb 2007 16:24
The Council of Docked Breeds is concerned by the emotive and undemocratic statement made by the RSPCA regarding the exemption for working dogs from the tail docking ban included in the Animal Welfare Act.

The new regulations, part of the Animal Welfare Act, are outlined on DEFRA's website as part of the Statutory Instruments covered by the Act and are set to become law in England on 6 April 2007, allow a vet to dock the tail of a working dog if its owner meets certain criteria and the dog is of a certain breed or type. The docking of dogs' tails purely for showing purposes has been banned.

An RSPCA press release issued earlier this week said: 'The world's oldest animal welfare charity is dismayed at the ill-informed drafting of the exemption, which does not even require a stringent paper trail to ensure the regulations are not routinely breached. There are no plans in England to centrally hold the certification issued when exempt dogs are docked.'

Story Source - Politics.co.uk
---
First welfare improvement notice served
15 February, 2007
The Scottish Society for the Prevention of Cruelty to Animals has served the first improvement notice to a horse owner in Ayrshire under the Animal Welfare Act.
For the first time in the UK, an improvement notice has been served on a member of the public. An improvement notice is a means by which welfare inspectors can make owners take action to improve their animal's well-being. Failure to comply leads to prosecution.
Owner Gordon McPhail, of Torrenyard, Ayrshire, was served with an improvement notice by a Scottish Society for the Prevention of Cruelty to Animals inspector on 24 January, after his six mares and three foals were found in a poor condition in a field strewn with debris.
International League for the Protection of Horses (ILPH) field officer Adam Fleming was present when the notice was served.
"It gave the owner a real shock," he said. "He was given five days in which to rectify their situation and, when we revisited him after two days, there was a massive improvement in care."
The Animal Welfare Act came into being in Scotland last October — it comes into effect in England on 6 April.
Story Source - Horse and Hound
---
Rescue dog searches collapsed building
Hampshire Urban Search and Rescue dog looks for people trapped in East London building collapse
A SPECIALIST search and rescue dog from Hampshire is helping efforts to uncover people trapped in a collapsed building in East London.

Border collie Byron has been at the scene in Whitechapel since 8.45pm last night (Tuesday), aiding firefighters combing the rubble.

London fire brigade were called to Commercial Road at 4.39pm yesterday after the four storey property collapsed during refurbishment.
They later called-in 23-month-old Byron and his handler Station Manager Robin Furniss to assist.

Byron, part of Hampshire Fire and Rescue Service's Urban Search and Rescue (USAR) team, has been specially trained to search collapsed buildings and is being used alongside specialist listening equipment to locate anyone trapped in the debris.

Ten adults and one child have been treated at the scene for shock but it is not yet clear whether anyone remains inside.

Byron trained for 14 months for his role in Hampshire's USAR, which is one of the first fully-operational units able to attend major incidents and catastrophies including terrorist attacks and natural disasters.
Story Source - Newbury Today
Posted - February 1st 2007
A petition has been registered urging the Prime Minister to introduce legislation to ban puppy farming in the UK so if you want to see and end to this offensive means of 'cash cropping' mans best friend then you should use the link below -
The link will take you to the appropriate petition page on the Downing Street official website where you can sign.
Petition organised by Becky Smith who sent the link to us.
---
Channel 5 News produced a feature on our own Nicki Oliver for their New Year series called 'Local Hero'.
---
It is with great regret and heavy hearts that we report the sad demise of Mr. Tod on Saturday 8th April 2006 at 9.05 pm BST.
He died peacefully in the arms of those who he cared for, and who cared for him, throughout his life.
Mr. Tod has been the Border Collie Rescue Mascot and Ambassador for all his life. Rescued as a puppy, he showed outstanding qualities of patience, tolerance, kindness and trust to all dogs and humans he came into contact with. These qualities have allowed him to work with less fortunate dogs coming into rescue and demonstrate to them that they need have no fears. He showed them that trust in humans, good manners and tolerance of other dogs has its rewards.
He has guided hundreds of dogs and young pups through the complex maze of socialisation by his example and his ability to relate. Many socially damaged dogs have a future and live on because he was with us, helping our work and helping them to become whole and recover from the damage life had done to them. He has been able to do this by adopting the role of 'Alpha male' within our organisations canine order. This he has achieved, not by assertive dominance but by respect.
This respect has been generated by dogs and humans he has come into contact with, he never demanded it, it was freely given. He never abused it and applied it in a way that showed more wisdom and care than many humans do. He will live on though all the dogs he has helped and though the work that we, in Border Collie Rescue, will do in the future.
He has shown us a way to help others and we will continue his work in his name. He has inspired us and we resolve to continue and share that inspiration. With his passing we all feel a great loss. The loss of a good friend, a companion and a colleague. There is an ache in our hearts that will be slow to pass. A pain that will ebb only gradually.
Tears have, and will, flow - but there are 16 years of happy memories to recall.
Mr. Tod. We love you. We thank you. We carry you forward in our hearts. May you rest in peace.
---
From - thisisoxford.co.uk - Friday 31st March 2006
Watch out dog walkers - they are watching you - and this will apply to the whole country
New fines for walking too many dogs
Dog owners in Oxford could be fined under a new ruling for walking too many of their four-legged friends at the same time.
Under the Government's Clean Neighbourhoods and Environment Act, which comes into force next week, councils can hand out £75 fines for littering offences.
These include dog fouling, fly-tipping and dropping rubbish, chewing gum or cigarette butts in the street. Failure to pay the fines could mean prosecution.
Anyone caught walking a large number of dogs in a prohibited area, such as a park, could also be fined.
Defra spokesman David Burrows was unable to specify how many dogs the rule applies to. However, it is believed to be aimed at some professional dog walkers who do not exercise proper control of their animals or clean up after them.
He said: "Some try to walk seven or eight dogs at the same time and we've got a problem there with trying to clean up their poo. Secondly, if they're walking that many, they can't have control of their dogs.
"But it's entirely up to the local authority to enforce this."
Oxford City Council spokesman Louisa Dean said it had not yet decided whether enforcing fines on dog walkers would be necessary.
She added: "We are considering all the new powers and will use them to deal with local problems on a priority basis."
Jo Driver, of Pinnocks Way, Botley, owns four Chihuahuas, one mini-Dachshund, a German Shepherd and a Border Collie. She said it was unfair for dog walkers to be targeted because of the irresponsible behaviour of a minority.
She said: "I think if you've got a bunch of unruly dogs, I could consider that a bit of a problem. It does bring to light the issue of dog fouling on footpaths, which I find disgusting.
"But I don't feel it's right to put this across the board as there are a lot of responsible dog walkers out there who look after them, get them trained and are good citizens.
"It's the one or two that give the rest of us a bad name and make this kind of thing necessary."
Two full-time environmental enforcement officers will be recruited to enforce the penalties. They will patrol the city centre, where CCTV cameras will also be used to catch offenders.
Sharon Cosgrove, the council's strategic director for physical environment, said: "The city council invests significant sums in cleaning up and these new powers will help deal with this poor behaviour.
"The recent strike day showed how much litter my team has to clear up each day and ultimately this means an unnecessary cost for Oxford's tax payers. It is not enough that we continue to clear up this mess, we need to educate people and take action against persistent offenders."
The council is expected to approve the new powers at the meeting of its executive board on Monday.
---
Amendments To Animal Welfare Act
A local veterinary surgeon has highlighted the problems encountered by dog owners who leave their pets in the care of kennels and catteries.
Statistics have shown that up to one in eight of dogs required veterinary treatment following a period of stay in a kennel. Nationally this is costing pet owners £47 million per year.
Acquired illnesses include, Diarrhoea, Vomiting and Kennel Cough. But vets have also encountered problems associated with a lack of exercise too.
The Animal Welfare Bill is currently being amended to help regulate Kennels and Catteries, but in the meantime, pet owners have been urged to only use kennel facilities that have been recommended to them and to insure their dog or cat before any length of stay.
---
Reports calling for changes in irresponsible pedigree dog breeding from Advocates for Animals.
---
Charity launches World's first pet rat beauty pageant
Pet rat owners across the country are invited to enter a Ratless Rat Show in celebration of World Rat Day on 4th April.
The Ratless Rat Show is being run by Cavy Rescue – the UK 's first dedicated rat rescue charity – and participants stand a chance of winning some fabulous ratty goodies for their four legged furry friends.
A special prize of a luxury new rat home worth £80 (courtesy of pet accessory manufacturer Savic and leading pet store Pets At Home) will also be awarded to the Rescue Rat of the Year.
---
16/01/2006
Animal rights bill moves one step closer
A CAMPAIGN supported by Watford Labour MP Claire Ward to protect animal rights has passed another legislative hurdle in the House of Commons.
The Animal Welfare Bill which received its second reading on Tuesday proposes to prevent thousands of animals from suffering ongoing neglect and to strengthen requirements made of pet owners.
Last year, Ms Ward collected nearly 3,000 signatures in a petition urging the Government to press ahead with new legislation.
---
Dog Flue virus in the USA
An article that will be of interest to all dog owners appeared in yesterdays (22/9/2005) newspaper - The New York Times - written by journalists Donald G. McNeil Jr. and Carin Rubenstein. The article refers to a new, and sometimes deadly, dog flu virus that has been detected in seven states in America and quotes Dr. Cynda Crawford, who is an immunologist at the University of Florida, College of Veterinary Medicine. Dr. Crawford has been investigating the deaths of Greyhounds at a track in Jacksonville where fatalities in dogs who contracted the virus have been as high as 33%. The full article can be accessed using the link below.
http://www.nytimes.com/2005/09/22/national/22canine.html
---
17/06/2005
Mrs. Price has contacted us saying she has just adopted a border collie from the North Clwyd Animal Rescue centre in Trelogan, North Wales.
The dog came to the sanctuary as a stray but seemed to have been so well looked after that she is convinced that he is a beloved pet, lost to someone and would like to see if she could re-unite this dog with his previous owner - if the owner wants the dog back.
The dog has been microchipped by his previous owner and is registered to a Mr. Argyll from Greenfield, near Holywell, North Wales, however Mr. Argyll seems to have moved and forgotten to notify the microchip company of his new address. The dog is quite a large collie, black and white, standard markings and could be anywhere between 3 and 6 years of age.
It is possible that he has strayed from his new address and found his way back to the area he used to live.
If anyone reading this could help Mrs. Price in her search for the dogs previous owner, please contact Border Collie Rescue.
---
8/6/2005
A County Durham man has been arrested after nearly 40 dead animals were found at a stables in Trimdon.
The bodies of around 20 horses, some dogs, several chickens and other animals were discovered at Bank Top Stables in Trimdon, County Durham, by RSPCA inspectors after being alerted by a concerned member of the public.
It has been difficult to precisely identify all the bodies because of the extent of decomposition and the estimated death toll is expected to rise as the premises are cleared and the remains examined in detail.
Three dogs were found alive - two Border Collies and a Rottweieler. It is believed they may have survived on the carcasses of the other animals and some sacks of stored food.
The RSPCA is now cleaning out the property and preparing a case for prosecution.
---
Article on Missouri Puppy Mills from Mo-Kan Border Collie Rescue - USA
Fundraising at an Art Exhibition - Our thanks to the British Society of Painters
Korean Government may seek to legalise the sale of dog meat for human consumption
The most intelligent dog in the world?
Some information about Grape and Raisin Toxicity in Dogs
TOP
You are Here >>> News and Views >>> News Archive