Please close this window when you have finished
I wish my dog could do that
A short story by Border Collie Rescue
Turn pages by holding cursor over page with left mouse button down and drag/flip to left (drag/flip right to go backwards)

Border Collie Rescue - On Line -I wish my dog could do that!
This page has opened outside of our main website. The main website remains open in the background. Please close this window when you have finished
I wish my dog could do that! - 1
It was many years ago that I was born.
I seem to remember it was in amongst the loose hay of a near empty feed barn about mile from the nearest house that I first drew breath and felt life.
It was good. I was very happy then.

The barn was on the landward side of a great embankment that formed part of a sea wall between the Solway Firth and the Cumbrian Fens - a flat expanse of fresh and saltwater marshes between the mountains of the North Lakes and the sea.
Man has kept sheep and cattle on these mashes for hundreds of years and with the stock came dogs - all shapes and sizes - to guard and manage the herds and single out individuals for special attention. Over years, the Border Collie has become the most popular herding dog and now most farms here keep them.

Like most working dogs, Dad was on the go all the time and Mum was needed back to work soon after having us - 7 puppies - 3 girls and 4 boys. I am a boy and they called me Moss.
My brothers were named Ben, Sam and Tom and my sisters Fly, Meg and Tess. Fly and me were tri - colours, the rest Black and White with Sam the odd one out because he was slim, short coated and had one blue eye.
We weren't sure about him!

I only have vague memories of my puppy hood today. It was so long ago.
I do remember that it seemed too short a time before Mum was back at work and Dad was far too busy to pop in and see us. Besides he slept back at the farm.
We got our food each day from the Mistress. We played with each other and the Master's children. Mum came home each night and now and then - a special treat - we had a visit from Dad to brighten up the day. I seem to remember we all had a great need to stick our noses down dads throat whenever he appeared - to this day I have never understood why - all I know is that he was very patient with us.

Then it all changed.
In a single day, one by one, my brothers and sisters were taken out of the barn by strangers, never to return. By evening, when Mum came home - I was alone.
The master picked me up and carried me off down the road, Mum and Dad at his heels. It turned out that tonight we were all going home to the farm.
I wish my dog could do that! - 2
When we got home I was taken to the big house and there I met 'Paul' the farmers eldest son. He was 13 and still at school in a town 20 miles away.
I was very confused at the time, but now I realise that I was destined to be Paul's first sheepdog. The master was going to teach us both how to bring in the stock from the marshes when the weather looked bad or the tides were high.

It was Easter Holidays and I spent all my time with Paul, apart from at night when I slept in a barn. The master said it was good that we spent time together so we could bond and learn to respect each other. Paul was great fun. We walked for miles, he played and threw balls and didn't seem to mind that I was around him all his waking hours. He always had a stroke and a kind word for me. I loved him.
But it wasn't to last.

School holidays ended and Paul had to go on the early bus each morning, arriving home late each afternoon. I missed him terribly and couldn't understand why he spent so much time away. Our time together of an evening was brief and often interrupted by Paul's duties around the farm so I spent more time alone in the barn. Sometimes I was so unhappy I howled.

Shortly before the summer holidays, when I was nearly six months old, Master showed me some sheep. He wanted to see what I might do with them - how well I might train up.
I hate to say it now but I wasn't much good at it! Well - I couldn't concentrate. I missed Paul and I couldn't focus my attention. I was distracted.
The master couldn't understand it and he kept on for a few weeks - trying me with sheep and failing. I can't blame him for giving up in the end. He was very busy and had lots more animals to care for.

Then I really soiled my copy book or rather, I soiled the kitchen floor. I wasn't allowed in the house again. I was banished to the old coal shed. I believe I spent a long time there.
Paul was back from school for the summer holidays but I didn't see much of him. I was regarded as a non worker and master said it would be better if Paul and I didn't bond any more. I got a bit depressed.

Then one day a shadow fell across the grimy window of the coal shed. A pale face with wide, worried, eyes was looking in, a deep frown of concentration wrinkling the forehead.
I wish my dog could do that! - 3
After a while it went - but it wasn't long before it came back - this time with an older face. They looked together then stepped back.
"Please" said the pale face. "I don't know" muttered the older and looked in again.
I looked back and wagged my tail. I didn't know what they wanted but I was quite prepared to be friendly for a bit of company but suddenly they both went away.
After a while they came back with Master who picked me up and gave me into the arms of the young, pale face, girl that I had seen through the window. The man with the older face gave something to Master who said 'Thanks' and walked away, leaving the three of us together.
We looked at each other. I looked confused, pale face happy, old face a little bit worried. 'Let's go tell your mother' he said.

We left the farm forever and I never met my family again - but as it turned out - it didn't matter. Things were on the up and up!
Mother, as it turned out, took one look at me and said 'Ooh, isn't he lovely'. Well I knew I was but it doesn't hurt being told from time to time, does it?
Pale face turned out to be called Gwen and she had a bigger sister called Molly who also said 'Ooh', then spoilt it all by wrinkling her nose and saying 'he pongs a bit'
In spite of my smell - quite nice in my opinion, but there's no accounting for taste - they put me on a blanket on the back seat of their car and off we went.
The journey was long and disconcerting but they stopped regularly and let me out for little walks and Gwen held my paw and talked to me all the way.

Father told the family how he had approached my master and asked about the dog in the coal shed. Master had said that I belonged to his son but it didn't look like I would be good for work. In the end he had agreed to part with me saying that his son would miss me but 'cross my hand with a bit of silver to dry up his tears'.
Father had given him a Half Crown and I had a new master - or rather a new mistress.

The family lived on the South Coast of Kent on the edge of a town with countryside surrounding the house. Compared with the Fens it was pretty hilly and it took some getting used to but I love it now and wouldn't want to live anywhere else.
I was Gwen's constant companion. Day and night we were together. Of course Gwen had to go back to school but it was only five minutes walk up the road so I saw her every lunch time. In fact we always had lunch together.
I wish my dog could do that! - 4
We played and Gwen taught me how to behave and have good manners in company. I grew more confident and trusting.She was a hard task mistress but fair and gentle.
I grew to love her, trust her and I couldn't do enough for her. A kind word from her was worth all the tea in china to me. I was never so happy as when I pleased her.
I grew up into a fine Border Collie ( or so everyone kept telling me ! ) and learned all my commands - Sit, Down, Come, Stay, Eat, Leave and more beside.

Gwen used to take me into school whenever she could and because I was so well mannered, the teachers didn't mind. She used to love to show me off to her friends. 'I wish my dog could do that' they used to say, and they would look at me with wonder in their eyes.
I felt so proud of myself and Gwen in those days - but things were to get even better.

Gwen had always had my best interests at heart and was constantly looking for things that we could do together. Not just things that interested her but things that would be of interest to me.
She used to tell her friends that I was so intelligent and active that I needed lots to do to stop me from getting bored. She said that I was a member of a working breed of dogs and could have been a sheepdog if she hadn't made me her pet.
She said she had a duty to me to replace the life I would have had rounding sheep up in the fields with something to keep me mentally stimulated and interested in life.

She got a lot of doggy magazines and various books on the breed but there wasn't much available in those days. The Border Collie was not recognised as a pet dog then and most of the books about the breed were orientated around sheep work. Then one day someone told her about a local obedience club.

We went for our first trial lesson to see if we wanted to join - what a surprise - I was the only Border Collie there, so naturally I did well. The instructors were pleasantly surprised by this young teenage girl and her sheepdog. We joined.
It wasn't long before we had got our first certificate - Basic Obedience. It wasn't much effort because I already new most of the instructions. We just needed to tidy up our act, so we were ahead of the other dogs in the class. Their owners would say 'I wish my dog could do that'.

Gwen said 'they could if they tried'.
I wish my dog could do that! - 5
I found that I quite liked people and they seemed to like me, so it was a fair arrangement and it kept me busy. I gave a little attention and I got some back. It never fails and still works today.
Fair exchange is no robbery.
My second certificate was the Intermediate. I had an advantage there too as we had already covered some of the instructions and used to practice a lot at home.
Gwen said that the instructors were always disappointed by people who would come to the class and then go home and not bother to practice what they had learned. The next week they had forgotten nearly everything and were back to square one.
Strangely enough, these were the people who used to stand and stare and say 'I wish my dog could do that, more than anyone else.

Gwen said that we were not going to fall into that trap and we used to practice a lot. Not just as training sessions but more by practical application. I had to work hard for my treats!

We sailed on through the training classes and I got my Advanced. Some of the dogs I had started with were still on their intermediate (some for the third time) and the instructors were very pleased with Gwen and me.
We got a special prize for the best dog and handler in the year. We were very proud. It was my first rosette and - I think even now - my favourite.

One day, purely by accident, I had lost my ball in some shrubbery and came back without it. 'That will never do' said Gwen, and sent me back to find it.
After a lot of sniffing around and scratching about I found the missing ball and proudly bought it back. Gwen was looking thoughtful. Little did I know it but I was in for something new and interesting.

The training classes were closed for the summer and Gwen went out and got a book on scent discrimination and search training.
She had read lots of books about dogs and Border Collies and sheepdog training and all. 'Oh dear', I thought, as she produced the book - 'another book, another lesson'!!
As it turned out, it was great fun. All through the summer holidays we worked at it. I was jolly good - even if I do say so myself - and we practised and practised until we had got it just right.
I wish my dog could do that! - 6
I could pick out an object placed - unseen by me - with several other objects - simply by using my nose and with 100% success.

When the training classes started again, Gwen was asked to demonstrate me for the new entries. The instructors said that it would give the new people something to aim at and show them what could be achieved. I did well and afterwards Gwen asked if she could show them something else.

She gave me to one of the trainers and I was taken out of the room and she asked for some handkerchiefs. She got six of them and added one of her own and spaced them out on the floor. I came back in and was told to find her hanky from the others. Of course it was easy - I was back in no time with the right one.

Then Gwen asked one of the other people if they would let me sniff their sleeve, which I did and Gwen told me to 'find it' again. I went to the remaining six hankies and sniffed until I found one that smelt like the sleeve. I was right - Top marks and applause. I heard one of the instructors say to Gwen, 'I wish my dog could do that'.

Gwen said 'you could if you try'.................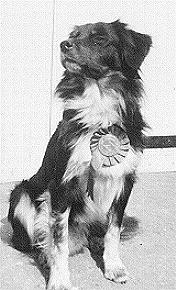 That was many years ago and I am 12 yrs. old now.
Life has been fun and if I've missed the sheep I have found reward elsewhere and understanding companionship in Gwen.

She is a grown up woman now and we still spend all our spare time together. I've heard the saying " you can't teach an old dog new tricks".
Well the cheek of it - that old wives tale certainly doesn't apply to a Border Collie !

I am looking forward to many more years of learning and working and hearing these words - yes you've guessed ' I wish my dog could do that.........'

And you know what the answer is - don't you ? -------- You can - if you try !!!